Invisiblegirl News Archive 1-7-07
What Noise album 'Fat' re-master
The only album released by What?Noise titled 'Fat' has been re-mastered and re-issued. Originally available on vinyl and CD in 1990 on One Little Indian Records. The new 15 track CD has three tracks edited into new arrangements and an additional bonus track added; Strange Brew (a cover version, originally by group Cream released in 1967).
The re-issue of the CD 'Fat' is available on our products page and from iTunes on the following link



Sleeve by Paul Khera

Song titles and details:

Change


Obliv
Zombic


Wobble


Core


Eventually


Strange Times
nob


Vanilla
P.O.W.
Whip


Anybody


Crash
Taste

A video of Change from the Fat album can be seen here
http://www.youtube.com/watch?v=ZJW4eRwj1xQ

What was said at the time..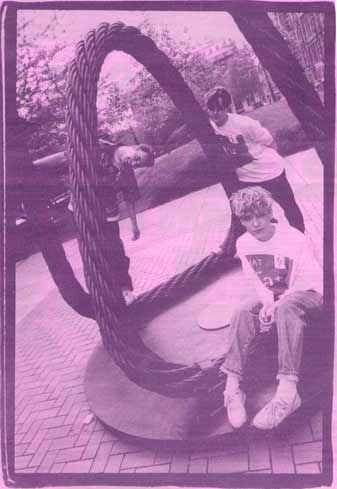 An interview with Paul Oldfield
for The Melody Maker, 9th June 1990 here


A live review by Dave Simpson in The Melody Maker,
12th May 1990 here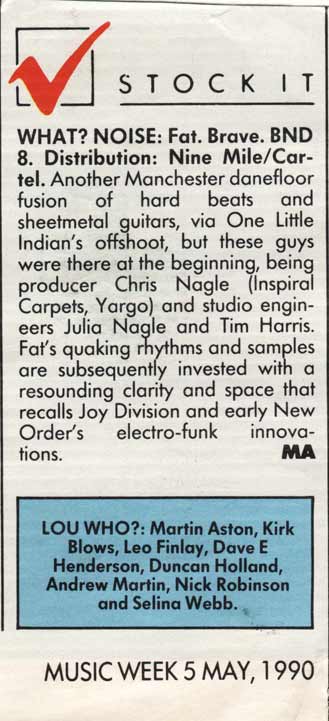 A review by Mike Noon
for Manchesters City Life Magazine here

Inspiral Carpets Mix
A German site for Tom Hingley and the Lovers (Tom is the
vocalist and vocalist from The Inspiral Carpets also), has details
about Chris Nagle and Julia and the work they did with
The Inspiral Carpets during 1991 here.
Julia co-produced a remix for the single Caravan called
The What?Noise Rethink .

© 2006-2014 Invisiblegirl
Return to
News and
Press Archive




Click on the

symbols
to hear the audio samples.