Invisiblegirl Records
'Collected Times' by Danny Short

Debut Album Release 25 April 2009

Danny Short is from Bolton. He's also from a planet where 70s pastoral progressive music can co-exist happily with on-the-money noughties experimentalism.
Take 'This Year Is Ours' rapturous 12-strings glitteringly reminiscent of 'Trespass'-era Genesis but dragged by the neck into today by a beautiful melodies and harmonies, and some slightly worrying interferences in the background keeping it all the right side of pretty. But then there's 'Truth Made a Man Of Me', where submerged vocals and drones are a bed for another gorgeous melody to sink into and dream. Imagine if AMM had written pop songs. You can't? Listen then. Danny Short is in a place of his own, but he shares some of the universe with poetic souls like Six Organs Of Admittance and James Blackshaw.
And this miserable old world needs more of this kind of beauty. Caressing musicianship, tunes to melt the hardest heart. Treat your soul.
Available from Apple Music and other streaming platforms.
Track listing
1 Dee
2 On The Ceiling
3 Leaving The City
4 Asleep
5 Stranger In The Snow


6 Dream
7 To Be Different


8 People On The Hilltop


9 This Year Is Ours


10 An Idea
11 Just Before You Disappear
12 Truth Made A Man Of Me

All songs written by Danny Short
except *Dee (writers: Fowler/Turner/Bailey/Short)
c/o Invisiblegirl Music Publishing
"I am not sure that I will hear anything as eclectic, and the same time as so relevant and consistently well put together this year."
..Bob Osborne.
Interview with Dan in Reformation webzine.

Video of Danny performing live April 2009
https://www.youtube.com/watch?v=iBttB2s5uUM
'Collected Times' album is available on CD (paypal).
DANNY SHORT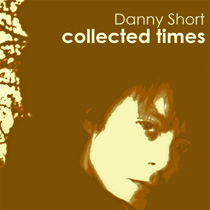 'Collected Times'
(12 songs) IG0014
Available on CD (paypal)

Return to the archive

Click on the

symbols
to hear the audio samples.