Invisiblegirl Records
'Gravy on a Plate of Food' by Moff Skellington
New Album Release 17 July 2009
Moff Skellington is a native of Abstercot, that northerly place dubbed the Brigadoon of Dreamsleep. He is a floater, a practitioner of Edoddi: Abstercot′s traditional blend of word-poems and music-tunes. The spirit of Edoddi provides, for those who seek, a means to create an authentic folk music for today - a folk music of the individual, the tradition of one in an age of alienation!
In Edoddi there are no rules except those of ones own making; it is a free musical expression of one′s mind and one′s experience of life.
In Abstercot they believe reality to be the product of interaction between three powerful elements: Octoberness, Perfection and Slapstick. Octoberness is a complexity of emotions associated with the transition from summer into autumn; it is also a sense of pending, of waiting for something to happen. Perfection is that unattainable state of flawlessness that every schoolboy knows does not exist.
In Abstercot they believe a flaw to be an imaginary side product of rules created by the human intellect. Take away human perception and suddenly everything is perfect by dint of its mere existence.
The third element Slapstick is, like gravity, an inescapable force of nature. It teaches us through comical mishap, embarrassment and enforced clumsiness, valuable and life enhancing lessons in humility. Through the good offices of Slapstick we are delivered from pomposity, conceit and misplaced sobriety.
If you wish to hear some fine examples of Edoddi from an experienced floater, simply hearken to Moff. His new Album: Gravy On A Plate Of Food, is out now on Invisiblegirl Records.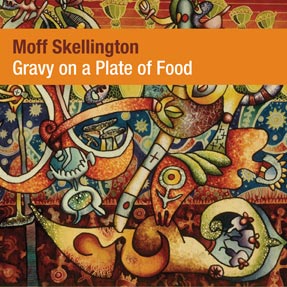 Track listing
1 Daddy's Tarmac Suit


2 Who's Coming up the stairs Today?
3 Said Naughty Norman
4 The Tip of my Fancy
5 Vapour in the Attic of my Titfor


6 Flightless Eggy Bird
7 The Upright Soldier
8 Sunny Side of the Falling Boot
9 Visiting Hours
10 Moonbone Grubber on the Sea
11 Stranger on the Mat
12 Madmen's Toes in Madmen's Boots
13 Somethings Going to Happen
14 Bipolar
15 3 O'clock in the Afternoon
All songs written by Moff Skellington
© Invisiblegirl Music Publishing
Available from Apple Music and other streaming platforms.
MOFF SKELLINGTON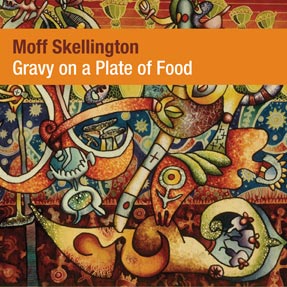 'Gravy On A Plate Of Food'
(15 songs) IG0016
Available on CD (paypal) direct from us.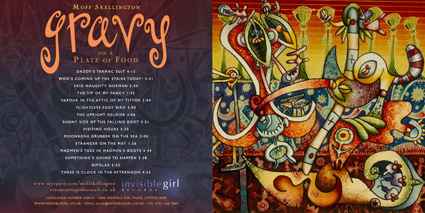 Interview with Moff Skellington in Reformation Webzine
~ Last exit from Aberscot
LYRIC BOOK (PDF)
for Moff Skellington repertoire
Gravy On A Plate Of Food

See the EDDODI set of 5 albums by Moff Skellington 2010.

Moff Skellington, real name Andy Quayle is also a talented painter (and sleeve designer). He has some more of his visual art exhibited on his facebook page.
Return to the archive
Click on the

symbols
to hear the audio samples.