Invisiblegirl News Archive
News Update - 31 March 2014
Spider Mike King
video
All Fade Away
in NME
here
.
How long can you remain a best kept secret? Is there a record for such things? If not then Spider Mike King is certainly in the running to create one. Arguably the most defiant, independent spirit on the Manchester music scene, Mike has been making music since the late 60s working and performing alone and with pivotal figures who have helped define the city's rich musical heritage.

Honeychild Coleman has been working on music for new animation series pOny about an all girl band from the Lower East Side in New York City and the animatic is now LIVE! Her musician friends Bachslider and Liza Roure did some 'action acting' too.

You can see the animation and (free download) theme tune
here
.

Since posting this picture on Facebook on 12 August 2013 of a few tapes reels rescued when Strawberry Studios closed in 1990's, the photo has generated an unexpected and huge response!
Related BBC news item here.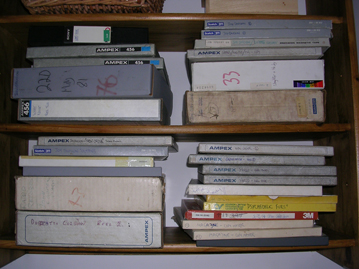 We sent a sample mp3 to Warner recently (who now manage the Factory Records catalogue) and chose 20 seconds of the outtake of Joy Divisions 'Insight', with the lift shaft at Strawberry Studios used in the song. It suggests the listener is in the lift and the gate opens into a room with musicians playing. The outtakes were mastered and I believe record producer Martin Hannett must have decided the songs needed something more and added a synthetic (disco) snare to many of the tracks. This outtake is before they added the synthetic snare drum.
Insight Outtake &nbsp (audio removed at request of copyright owners)
Other News
We're happy to announce that we have agreed for our publishing catalogue to be sub-published by The Getty Foundation. Web-links will be posted as soon as we have all the meta-data in place.
A tune from The Happy Soul filmed recently at St Margarets Church, Manchester by Boz Hayward.
A new video from Moff Skellington of The Longing To Be Elsewhere, from his album Blue House and Titty Bottle.
More details about Moffs albums on Invisiblegirl Records.
Finally thanks to the many artists who have emailed and the people looking for work experience. Sorry I haven't replied. We aren't doing any new releases at the moment, but will certainly listen when we do (all the emails are in a file).
All Rights Reserved
© 2006-2020 Invisible Girl Music Limited
Return to News here
Return to News and
Press Archive here