Invisiblegirl News Archive 20-01-08
Mick Middles book 'The Fall'

Copyright © 2003 & 2008 Omnibus Press
(A Division of Music Sales Limited)
Cover designed by Chloe Alexander
Picture research by Mick Middles & Sarah Bacon
ISBN:
Order No:
The Author hereby asserts his/her right to be identified as the author of this work in accordance with Sections 77 to 78 of the Copyright, Designs and Patents Act 1988.
All rights reserved. No part of this book may be reproduced in any form or by any electronic or mechanical means, including information storage or retrieval systems, without permission in writing from the publisher, except by a reviewer who may quote brief passages.
Exclusive Distributors
Music Sales Limited,
8/9 Frith Street,
London W1D 3JB, UK.
Music Sales Corporation,
257 Park Avenue South,
New York, NY 10010, USA.
Macmillan Distribution Services,
53 Park West Drive,
Derrimut, Vic 3030,
Australia.
To the Music Trade only:
Music Sales Limited,
8/9 Frith Street,
London W1D 3JB, UK.
All lyrics used by permission.© Mark E. Smith, Cog Sinister Ltd. All rights reserved.
Photo credits:
Every effort has been made to trace the copyright holders of the photographs in this book but one or two were unreachable. We would be grateful if the photographers concerned would contact us.
Printed by:
A catalogue record for this book is available from the British Library.
Visit Omnibus Press on the web at www.omnibuspress.com
DEDICATION
For Lorraine and Carlhoun
In Chedzoy
CONTENTS
ACKNOWLEDGEMENTS
INTRODUCTION
CHAPTER ONE - The Glen Rothay Hotel, Rydal, Ambleside. July 22, 2000
CHAPTER TWO - Tesco Store, Prestwich, Manchester. April 1, 2003, 6.30 p.m.
CHAPTER THREE - Dirges In The Dark: Manchester/Salford, 1976/77
CHAPTER FOUR - The Only Band In The World
CHAPTER FIVE - Locations
CHAPTER SIX - The Whole World Is A John Peel Session
CHAPTER SEVEN - The Avenues Of Influence
EPILOGUE - Post TLC
BANDOGRAPHY
DISCOGRAPHY

Epilogue
Mark E. Smith
Post TLC
exerpt 1
Four tumultuous years have flashed by since this book was published. Not least for The Fall, whose unholy soap opera has remained consistently implosive, most famously with the dramatic walk-out of the band (in May 2006, when Pritchard, Birtwistle and Trafford gloriously 'jumped ship' mid US tour) and the almost instantaneous replacements, Mark, moving at the speed of sound, hastily bringing in elements of US band Darker My Love (courtesy of Narnack Records). Before long, they merrily left LA, to decamp to the leaden skies of Rochdale, where they helped Mark and Elena complete Reformation Post TLC, one of the most personal albums in The Fall's rich history, if someway short of their best.
This new, two thirds American Fall, resplendent with Americana beards - very, The Band - are able to 'rock-out' in the US manner, a talent often ironically despised by Mark in a band - but nothing is ever quite what it seems. Soon they too would be relegated to The Fall's star-studied 'subs bench'.
The new band debuted in Manchester at the New Century Hall show in the summer of 2006. Although a cold, concrete shell, New Century Hall - for so long the tallest building in Manchester - held many ghosts, most notably as a glorious northern soul venue in the seventies, a fact not lost on a rampant Dexy's Midnight Runners, who once famously stormed the venue.
The Fall too, caused something of a storm. By this time, and perhaps against all odds, Mark's star had risen dramatically and, indeed, continues to rise. Barely a week has flashed by without chunks of gushing broadsheet praise. A furore surrounded Reformation Post TLC, again a good album given the circumstances, but it was hardly worthy of the blanket five-star full-page approvals and concurrent interviews that would hang on Mr Smith's every word. Ok, I admit I have been there, enjoying the ebb and flow of his thought process, lapping it up in fact, on the preceding pages of this book. But, in The Observer, Times or Guardian, every utterance remained bizarrely unchallenged. To be a die-hard lifetime Fall fan was, it truly seemed, an essential attribute for any emergent broadsheet music writer. BBC arts programmes followed in their wake, allowing Mark the chance to snap grumpily at some hapless and often extremely pretty arts presenter. It all seemed to be tripping along as expected, a small wave of hype moving towards the spring of 2008.
How things have changed, even since the start of this book in 2002. Back then Mark, supported by the strength of Elena, had already started to fight his way back to prominence. There had been long periods when it felt as if the spotlight might never return. There had been periods of tight finance, too, and even as we discussed this book it was obvious that some of that mud had remained.
The initial idea for this book was for it to become a slightly ironic biography, light of tone and a gentle pastiche of the flaccid celeb and footballer biogs. I can't recall whose idea that had been, but it soon died on some taproom floor in Salford. Then it changed shape to a weightier, more traditional rock biog, and oh how Mark hated this twist (as in the intro), but that, too, stumbled on the floorboards. What was happening here? I would arrive with a raft of questions, the intention to pin the interviewee down to some kind of time frame. Impossible, well almost. The stream of consciousness would fly in all manner of direction, picking up snippets along the way, mixing mundane with fantastic, and hurling around in non-linear fashion. That is how it truly is with Mark. It is how he writes, scribbling frantic notes, looking adoringly at words and phrases, delving into the past, back and forth.
exerpt 2
While this is true, one wonders why you couldn't apply the same to countless other second division bands parading around small venue circuits with a membership that relates only vaguely to the original band. Then again, all they would be doing is re-treading increasingly ancient glories, while The Fall's muse remains ferociously active. Nobody wants to hear new songs by, say Slade Two, or SAHB or even Status Quo. The Fall roll on however, and the past is but a distant memory.
Following the publication of this book, and totally by chance, I seemed to befriend a number of ex-Fall musicians who, for reasons which are unclear, wish to remain largely anonymous. None have been particularly appreciative of Mark but I guess that pretty much goes with the territory whenever a band is wholly dominated by one person. People get hurt. Conversely, many musicians have had their artistic eyes prized fully open although only a few have moved on to better things.
One of the exceptions is Julia Nagle. Fall aficionados, who seem to retain an unlikely mix of perception, intelligence and a quaint, train-spotterish affection for the band, and for Mark in particular, often cite the Julia Nagle years and albums as among their finest moments. This might not have seemed apparent back then - as detailed in this book - when Julia made her tentative debut at Manchester Roadhouse. Nevertheless, it was hardly surprising, for Julia came to The Fall with a honed musicality, an impressive ear for experimentalism, be it electronic or rock based and, most important of all, exceptional taste in music. These elements combined to help angle The Fall into untapped areas of avant-garde and electronic drive. She was perfectly suited.
It was no surprise, therefore, to see Julia's artistic vision continue its lovely idiosyncratic path post The Fall. (After all, her ears were attuned by her ex-boss, Martin Hannett). Today, reverting to her maiden name, Adamson, she remains in contact with Fall fans, largely through the still excellent Fall unofficial www.visi.com website. She also powers Invisible Girl, which is a musical unit, record label and many other things. Indeed, it is a label courageous enough to release experimental music of the present, and of the past, often complete with original warts. Does this sound familiar? Most Fall fans tend to think so. Catch Julia at www.invisiblegirl.com. It's a Fall branch line and so much more.
As to Mark, he still flutters around the media, calling the shots, and often drinking them. In latter years, from Heads Roll through Reformation Post TLC in 2007, he has switched his choice of hometown interview venue from some grim Salford watering hole to the art deco environs of Manchester's Malmaison Hotel, part owned by Mick Hucknall, somewhat ironically.
Filing in alongside a willing conveyor belt of journalists, I respectfully took my place, intent on securing an interview for Record Collector. I couldn't help notice that, within this riot of red and black interior design, Mark E Smith cut a curious figure. Not familiar enough, it seems, to negate the suspicious glances from vulturous barmen.
exerpt 3 Except, of course, it isn't. It is Von Sudenfed. A whole different ball game. Almost immediately this collaboration became left field knowledge, Wire magazine slapped Von Sudenfed on its eclectic cover, itself an indication of Mark's rising sellability, leaving him wide open to offers from every wannabee band languishing in the underground. Strangely however, the resulting Von Sudenfed album, Tromatic Reflections, proved to be more fun than you would reasonably expect from German electronica and vastly more intriguing than Reformation Post TLC. Indeed, within the lovely tinges of the (oh how ironic) New Order-ish 'The Rhinohead' and, honestly, jug band fun of 'Chicken Yiamas' to the twist in the tale - the afro beat push on Dearest Friends' - it seemed patently obvious that Mark E. Smith is happier, more productive, more aesthetically free when released from the rockist constraints of the ever-fluctuating band who still chose to use the name, The Fall.
The trend might reverse, of course, as it has so many times before. Indeed, perching on the very brink of musical tedium, before pulling violently in unexpectedly refreshing angle, is a Fall trademark. So who knows? Not even Mark E Smith, one senses, until the moment hits him... and heads roll.
Roll on then Mark, with your autobiographical excursions, tempting fringe projects, books, films and spoken word. As long as the man can scowl, the world remains open. These are rare, if not unique, avenues of expression, all open to him. If he can withstand the ravages of celebrity and hedonism, he should be able to surge mysteriously on.
As a fan, I shall remain expectant in the wings. Other than that, swimming the torrents of bitter down the pubs of Prestwich village and drowning in inspiring banter. That's in the past for me. I don't want to go there.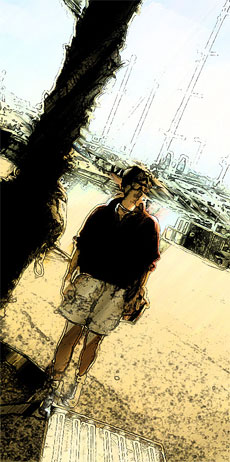 Return to News and Press Archive here