Invisiblegirl News Archive
30-04-10

New releases for 14 February 2010
Debut album Mind-carved Canoe
by Fall Fan Dave And The Laptop Dancers Lyric Book
Fall Fan Dave does actually sound like Mark E Smith a little and has obviously studied not only his vocal technique, but lyric style too. But Dave Bromwich comes into his own with a natural talent for singing and has developed this far beyond the study of The Falls lead singer, with a depth and style noteworthy of being quite something else. From hilarious observations to experimental and unexpected vocal challenges, he delivers some startlingly great tunes. Fall Fan Dave And The Laptop Dancers are both Dave and his old friend (now living) in Australia, Ian Harber. They played in a band as teenagers and never really lost the enjoyment of toying around with tunes. Ian uses Ambleton software and Dave Fruity Loops, they send files to and fro stitching song arrangements together with ease and a rather polished finished production. I am amazed at how many bands can do this now with the user friendly software available. Dave also does the videos for the songs, (Daves Doodlios) which are also quite fantastic, this guy has a natural flair with words, singing and art, but from what I know of him, he would never admit to it. Check out the tunes, they're worth it.
Interview with Dave in The Reformation ezine (Jan 2010)~ The Return Of The Pseud Mag Ed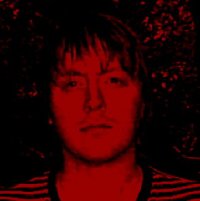 A second release from Danny Short, being an album entitled
Beyond The Numbers
Dans flair for melody is what hooks me with his songs, the arrangements sometimes evolve into masterpieces of counter melody after counter melody and flow with an endurance and perseverance of the professional musician he is, (having played drums professionally for Paul Ryder and a number of other groups). More often than not Dan plays all the instruments on his recordings, working on a studio set up in his home producing finished masters of quite amazing quality.
Free track from the EP to listen to / download here
We've also agreed to make the full 'Edoddi' series of albums available (5 in total) by talented alternative folk artist Moff Skellington.
I Am The Nutter On The Bus from 'A Book Of Fretful Chums'.
These releases consist of a new album
A Book Of Fretful Chums
(2009)
Lyric Book
and three preceeding albums ;
Blue House And Titty Bottle (2009)
Lyric Book
Sperm Jingle Harvest (2008)
Lyric Book
and The Corrosive Norm (2007)
Lyric Book
These works complement and expand on his first release
Gravy On A Plate Of Food.
Moff Skellington. Well he reckons it'll be a challenge to get people interested, I say his work is a niche market, that when it does appeal will be noted with a wow, who is this guy! Andy Quayle is the quiet and meticulous artist behind the pseudoname or alter ego that is Moff Skellington. Eddodi is the self invented style, to quote;
' The spirit of Edoddi provides, for those who seek, a means to create an authentic folk music for today - a folk music of the individual, the tradition of one in an age of alienation! ..a free musical expression of one′s mind and one′s experience of life'
And that it is, sounding like nothing else (which is how we like it) Moff surprises with a vocabulary to have you pondering the words and poetic phrasings and leaving you wondering what it was you just heard. It's clever, it lightly presents subjects usually out of bounds due to the complexity of their explanation, but Moff accomplishes this with ease and beauty and it is folk and should be taken as such. What better way is there to present tomorrows folk history, via this artistic statement and document of our times. The Eddodi Series available from 14th February
Our latest publishing signing,
John Hamlin was in
Autumn Parade
in the early 90's and continues to write today using fabulous female vocalist, Emmy Mcintyre.
John and Emmy are currently recording and we plan to have a video of the new mix up soon, in the meantime
check the demo out
of the song they're working on ... it's fab!.
All Rights Reserved
© 2006-2020 Invisible Girl Music Limited
Return to News here
Return to News and
Press Archive here