Invisiblegirl News Archive
News Update ~ 1 September 2015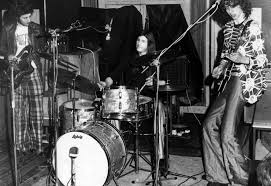 left to right; Martin Hannett, Paul Burgess, Spider Mike King in 1972!
Spider Mike King has a new album on Finders Keepers Records in the near future, with songs recorded in the 1970's, many of the songs have remained unreleased until now.
His current group, Spider King are recording new material that I believe is his best work yet and plans are to release an album later this year.
Danny Short's new band 'The Transmitters' appeared in session on favourite radio station, ALL FM in April. The group took some video of the performance:
https://www.youtube.com/embed/MqOIB55MAFI
.
Danny has released 2 album's with Invisiblegirl, Collected Times and Beyond the Numbers, he is an exceptionally talented multi-instrumentalist, playing most of the instruments on his albums.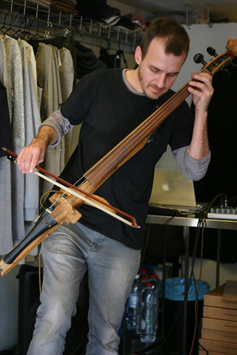 NRAN who appears on our compilation A Place In Space, twice! on tracks 2 & 10 has a soundcloud with his more recent work. Recorded in 2013 a superb 9 minute piece of cello overlays entitled 1-S-R-DRY, starts with an ambience of calm with slowly building accent, agitato and multi layered counter melodies. Listen to '1-S-R-DRY' here.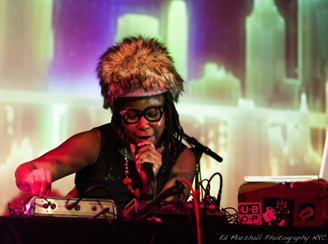 Honeychild Coleman has an active Facebook Page and she released a glorious new slow dub songmix in September 2014.
I'm Still In Love (Dub Inna Kitchen)
.
Honeychild released her album Bereket Window with Invisiblegirl in 2011. It has been our best selling album to date.

The prolific Moff Skelington has had 5 albums released on Invisiblegirl Records over the last few years and has a new 14 minute track available from German Shepherd Records entitled 'Under The Cobweb Sea' released in January 2015. This is a continuous piece which might be described as "Eddodiprog". Have a listen.
Under The Cobweb Sea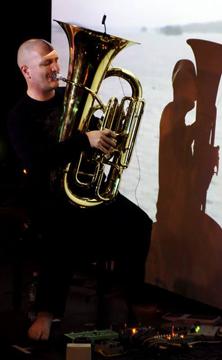 Stuart Estell, who's many talents include playing concertina on 'Fun', a single by Invisiblegirl (the artistes).
Stuart also features on our compilation 'A Place In Space' track 4, with amazing drone metal/folk song 'Will Beckett's March (Reprise)'.
Currently going under the name Lachenalia, Stuart's Soundcloud page features some of his more recent work. This beautifully executed song particularly took my attention 'The Wife of Usher's Well (Child 79)'
Early 1980's electronica group Illustration has had their back catalogue recently added to Invisible Girl Music publishing. A collection of 15 songs recorded by the group for various record companies is an addition that we're really happy about. There is much interest in the song Tidal Flow that featured on classic compilation Some Bizzare Album.
https://www.youtube.com/embed/KQ7EhGPOj9U
All Rights Reserved
© 2006-2020 Invisible Girl Music Limited
Return to News here
Return to News and
Press Archive here