Invisiblegirl News Archive
20-09-09

RUCHIRA
New release 27th July 2009
Ruchira EP is now available.
Track 1 ~ 'Maan Na Kariye'


Track 2 ~ 'Mora Saiyan Bulave'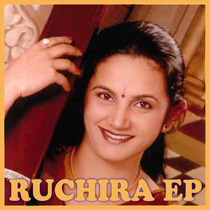 Available from Apple Music
Ruchira is one of the artists who features on our compilation
A Place In Space now has her own songs available. 'Ruchira' features 2 songs, including the full version of the 'Raag', 'Maan Na Kariye' (Classical Indian music) which appeared in an edited version on the compilation, and is over 19 minutes long. Her record also includes 'Mora Saiyan Bulave' another wonderful Raag.
Ruchira Kale is a multi-talented vocalist from Pune in India. Born into a family of musicians, she had a passion for music from an early age and has had extensive music training from some of the most renowned and legendary artists in classical Indian music.
Ruchira's music is in the traditional Hindustani style; her singing is soothing and emotive. She says her musical art is "an amalgamation of my strong fundamental training along with the diverse and rich influences of the maestro's of Indian music".
Ruchira has performed at many prestigious events in India and has toured the USA and Canada. She hopes to establish her brand of music worldwide through solo concerts and collaborations, opening ears to the magic of Classical Indian music.
MOFF SKELLINGTON
New album Gravy on a Plate of Food by alternative folk artist
Moff Skellington is now available. (July '09)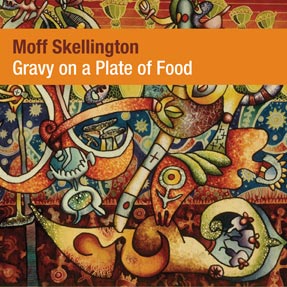 Moff Skellington is a native of Abstercot, that northerly place dubbed "The Brigadoon of Dreamsleep", a neighbourhood in which the dreams of his waking counterpart, railway navvy turned artist Andy Quayle, take place.
Moff's chosen musical form is that of Edoddi, a species of folk music which celebrates the very individual and often skewed perceptions of the world engendered by modern life. With no canon of acceptable subject matter (how can we police our dreams?), and no notion of imposture, Edoddi provides a refreshing alternative to the prescriptions and formulas of mainstream and "alternative" folk music. Edoddi has a very simple philosophy: nothing is arbitrary. Make it up as you go along, it's bound to be authentic!
More info about Moff here
Track listing
1 Daddy's Tarmac Suit


2 Who's Coming up the stairs Today?
3 Said Naughty Norman
4 The Tip of my Fancy
5 Vapour in the Attic of my Titfor


6 Flightless Eggy Bird
7 The Upright Soldier
8 Sunny Side of the Falling Boot
9 Visiting Hours
10 Moonbone Grubber on the Sea
11 Stranger on the Mat
12 Madmen's Toes in Madmen's Boots
13 Somethings Going to Happen
14 Bipolar
15 3 O'clock in the Afternoon
All songs written by Moff Skellington
© Invisible Girl Music Publishing
Available from Apple Music
Future releases
Artist Danny Short whos debut album was recently released is interviewed in the latest edition of Reformation Webzine and is currently having a dance mix done of one of his tracks by new signing Borland.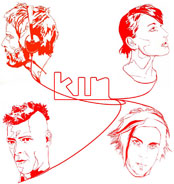 DOT DOT DOT is the title of a debut EP by Manchester group KIN and will be available soon. Here's a preview of the sleeve artwork in the meantime, by vocalist Kim Foster.
RUCHIRA
'Ruchira' (2 Classical Indian songs: 30 minutes) IG0013
Available on CD (paypal) direct from us.
MOFF SKELLINGTON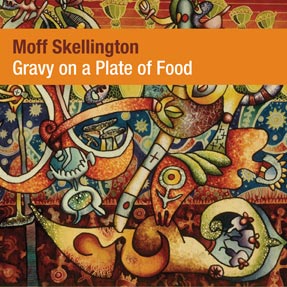 'Gravy On A Plate Of Food'
(15 songs) IG0016
Available on CD (paypal) direct from us.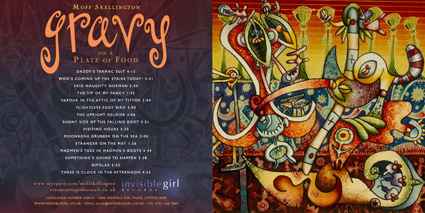 Click on the

symbols
to hear the audio samples.
Return to News here
Return to News and
Press Archive here